Minecraft Coding Summer Camp 2017
Minecraft is finally becoming better known as a place for more than just building awesome virtual worlds. Now, many people use it for studying language, quick virtual world modelling of something they are about to make in the physical world, or as a communication bridge between friends and community.
At Maker Toolset's Summer Camp 2017 students will learn how to do Minecraft Coding. You will be able to customize your Minecraft environment by building mods and unlock a whole new concept of how to make this game your own.
This 4-day camp is designed for students with the desire to learn in a primarily English environment. All mentors will be bilingual so whether you can communicate in native English, or are just starting to learn English, this is a practical hands on challenge for you to communicate with friends with a clear shared purpose.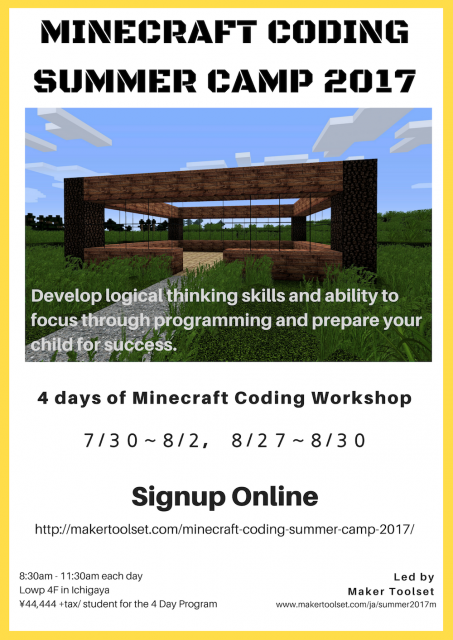 Enjoy and learn with us whether you are a beginner to computers and want to learn how to code for the first time, or are already on your way to higher levels. There will be lots of fun and new challenges to fit your level.
http://makertoolset.com/product/july30th-summer-camp-2017m/
For those who cannot make our first camp, we have the same camp running late August as well.
http://makertoolset.com/product/minecraft-coding-summer-camp-aug-27th-start/